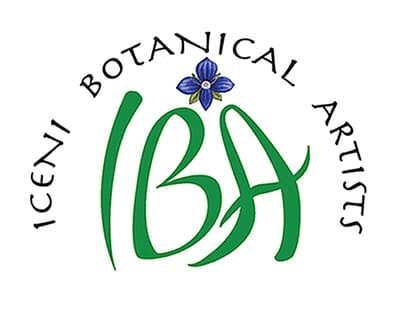 In 2003 Isobel Bartholomew and her husband moved to West Norfolk. As a botanical artist she had previously been exhibiting in Bedfordshire and London for several years, and invigorated by the move she began to look for galleries and local group exhibitions where she could carry on from where she left off.
Isobel entered paintings into shows of work by local artists and her botanical work was hung amongst mixed art styles. Having visited several exhibitions she became aware of two things. Firstly that there were several other flower painters exhibiting, and more importantly, that the genre of Botanical Art did not sit too comfortably amongst all the other styles of landscapes, animal studies, portraits etc. etc.
An idea began to form that as there were other botanical artists in the East Anglian area that they might like to come together to form a new group, solely devoted to painting the plant kingdom. In February 2010 a meeting was held and Iceni Botanical Artists was born with some 23 members.
IBA's first exhibition was held in August 2010 at The Edmunds Gallery, Bury St. Edmunds, entitled "For the Love of Flowers". The show of paintings and drawings celebrating the beauty and diversity of plants was a great success and highlighted the varying styles of members. While some enjoyed painting plant portraits with accurate detail, others had great skill at capturing habitat landscapes or more impressionistic representations. Every year since then we have held one or two exhibitions a year, moving locations to Galleries in Cambridgeshire, Norfolk and Suffolk.
In 2014 we worked on a three year "Breaking New Ground" Project funded by a Heritage Lottery Grant, teaching the painting of the wild flowers, insects, local landscapes (featuring pine trees), and fungi. The Brecks landscape, which is at the heart of IBA's area, is rich in biodiversity and rare flora and fauna. The twelve local workshops taught by IBA tutors, proved very popular, introducing some 250 people for free to the delights of the Brecks.
Later IBA members produced 45 plant portraits of some of the rare and endangered wild flowers of the Breckland area such as Spiked speedwell (Veronica spicata), Perennial knawel (Scleranthus perennis), Breckland Thyme ( Thymus serpyllum) and Spanish catchfly ( silene otites). The whole display was taken on a touring exhibition to 6 locations, including the RHS in London. The following book "Breckland Wild Flowers – Heaths and Grasslands" was first published in 2016 and is into its third edition.