Tina Bone delivers her first watercolour workshop at Diss Cornhall
My first event as tutor of a painting workshop!'
11/05/2019
"Spring Flowers and Little Dewdrops" at the IBA annual exhibition, Spring into Summer 2019.
http://tinasfineart.uk/
The morning did not start too great: it was tipping it down which made driving rather hazardous. From my house to the Cornhall in Diss is 60 miles and according the the AA route planner should have taken me 1hr 12mins! I left Comberton just after 7.30am and, apart from a futile 10 minute wait at red traffic lights up Barton Road (just near my house) where I turned round in the middle of the road and took a different route, I arrived at the Cornhall at 9.20am, rather anxious (and tired out already) after such a horrid journey. However, I was greeted by the lovely lady in charge who promptly made me a great cup of coffee, and I very soon got myself back on track for the day.
As I had arrived half an hour later than anticipated, I rushed around to unload the car and get everything into place before my students arrived. It was a rush, so of course I forgot some of the things I had planned to set out! The class was limited to 10 students, and I had been notified to expect 6, possibly a couple more. The first three arrived in very good time, then another three. Then another two popped up, and then another - so I had 9 students for the day.
I must thank these 9 people very much for coming to the class with open minds and hearts, to learn a new skill, and to be prepared to listen to what I had to say. The atmosphere was very ambient and everyone was soon talking to each other. Because I am so bad at remembering names, I asked each student to stick a label on themselves with their name on it, which they all did, and so I did not have to worry about remembering.
As well as individual tutoring when asked for, I also gave three demonstrations during the day. The first was an introduction on how to look at a plant, and then sketch loose, representational shapes as guidelines in which to draw the actual shapes of the flowers and leaves. By lunchtime everyone had achieved the goal of a nice drawing which was traced and then re-traced onto their good water colour paper. After lunch, I gave a quick "speech" about colour mixing to explain the images on the student worksheet, followed by the second demonstration to mix and apply colour to the prepared drawings, remembering to tell them to leave a little white space on one of their leaves for a little dewdrop, if they wished.
The whole day was beautifully jovial (and lunch was very tasty), but also in some instances the classroom was eerily quiet as everyone applied themselves to the task in hand - I was so proud that they all were showing great enthusiasm for their work, and all produced excellent pictures after their 6 hours' labour! The third demonstration was to show how to utilise the principles listed in the worksheet with regard to the little dewdrop in their own paintings. Several achieved this, which was very pleasing for me - dewdrops are not easy, especially when painting one for the first time.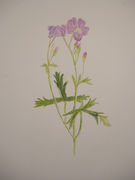 Well done to all and thank you again for allowing me the opportunity to pass on some of my skills to you, and for permission to use the photographs taken during the class as shown in this blog. Happy painting!!
http://tinasfineart.uk/